Business leaders are always on the lookout for ways to increase productivity and profits by employing not just the best people, but also the best strategies.
Agile Software Development is a methodology that has taken the IT arena by storm since the early 2000's and there is no reason to believe it can't be modified to fit other areas of the business ... including the ongoing search for higher levels of Employee Engagement.
Hugely successful companies such as Google, Adobe, Netflix, etc... all use some form of agile due to the immense benefits and optimal results it can quickly deliver.
The Agile approach produces better and quicker-to-market computer programs, mobile apps, etc… by leveraging an iterative process where teams self-organize, direct their own work and make timely, pertinent enhancements via continual inspection and feedback.
Imagine your workplace engagement program being employee driven while producing highly-targeted improvements quickly and on a recurring basis.
The Agile method doesn't rely on an annual survey that burdens certain individuals to find a few 'silver bullets' to appease everyone. It energizes the entire workforce to be an active part of the solution.
Wouldn't this be a major step towards a much-improved overall Employee Experience?
Conventional Wisdom
Let's take a quick look at outdated traditional methods used for Software Development and Employee Engagement.
Software projects usually follow a very linear approach (termed waterfall) that starts with a lengthy business case and requirements analysis phase, followed by detailed design, planning, and scheduling before any real activity begins. Finally, the product goes through meticulous testing before release to the users or customers.

While the waterfall method has merits, no true results are seen until roll-out. By this time, you hope it meets earlier expectations and that market conditions or other influences haven't mitigated its usefulness.
Many current engagement efforts fail because they bear a stark resemblance to this strategy.
These usually begin with an annual survey to solicit employee opinions (frequently achieving less than 50% participation) followed by the painstaking and time-consuming burden placed on HR and Management to dig through responses looking for measurable criteria. Once the decisions have been made by HR and Management, they are usually announced to the company in the form of the clichéd and banal "You spoke, We listened" email.
All too frequently, the employees have forgotten what they said in the survey, will see the proposed initiatives as management agenda, deem it irrelevant to the real issues facing them and their team, and become even more disengaged.
Let's be honest, in today's fast-paced, frequently changing world, these long, drawn-out processes have seen better days. It's time to become more efficient, practical, and responsive.
How Agile/Scrum made IT better.
The technology sector has devised several frameworks to implement the Agile approach, of which Scrum is most widely used.
In Scrum, the overall objectives are still listed at a high level into what is called a Backlog. Smaller teams then work in 2- or 3-week increments known as Sprints which starts with selecting a few items to work on that form the Backlog in an exercise known as Sprint Planning.
At the end of the Sprint they review their progress and work before another Spring Planning session kicks off the next iteration of activity.
Frequently there will be multiple smaller teams (such as web developers, mobile developers, database, etc...) all working towards delivering the final product.
This cycle continues until something tangible has been produced at which point it is released as a new version of the software. And then the process usually starts again as everyone seeks to improve on what was just finished.
Agile facilitates incremental and demonstrable progress every few weeks leading to higher project success rates, faster product roll-outs, and a happier programming team who now feel more responsible, involved, and emotionally attached to the success of the project.
How Agile can improve Employee Engagement
If we adopt a similar mindset towards engagement we can expect a much better employee experience and faster, more targeted improvements by;
Focusing on what's important to smaller groups rather than a spray and pray approach
Empowering these smaller groups to take corrective steps rather than place the burden on HR and Management
An Agile approach to Employee Engagement where teams self-organize and make pertinent changes quickly is the paradigm shift HR, Management and (most importantly) the Employees have been crying out for
So, let's look at three key concepts from Scrum that we can adopt and adapt to bring about greater employee ownership of the engagement process and speedier culture change across the organization.
Frequent, Relevant Assessments (Backlog)
Replace the lengthy annual survey with shorter and more frequent assessments that highlight Potential Areas for Improvement.
Pulse surveys are certainly a step in the right direction, but they don't really allow for progress tracking over time as each is usually on a different topic. A concise standard survey that hits on key areas of disengagement and helps each team highlight what is important to them is the ideal approach.
Within the survey, ask questions about the needs of individuals (and teams) rather than the strategies, procedures, finances, or management of the organization.
Questions such as "The company offers services tailored to our client's needs" or "Management has a clear direction for the company" aren't employee-centric and don't address the day-to-day needs of the individuals.
Assumption-free questions such as "I get the appreciation I need from my team and manager", "My suggestions are welcomed" or "Alternative ideas and opinions are welcome in the team" are much more relevant and personal. Hence, they are more likely to secure attentiveness and an honest answer.
Individuals and Teams establish objectives (Sprint Planning)
Engagement is highly reliant on workplace relationships at the local level with the 4, 7, 10, (or whatever number of) employees who work together day in and day out, and in particular, the relationships these employees have with their manager.
Rather than HR and Management sifting through the company-wide survey results, let the teams and individuals see the results for their area. They can then work with their team lead to identify areas for improvement.
For example, Team A might feel undervalued while Team B thinks there is limited openness and feedback among the group and Team C say differences aren't well managed and deteriorate into conflict.
These Selected Areas for Improvement within each team become the objectives that the group can collaboratively work on for a period of up to a few months. This ensures focused and disciplined approach.
Empowerment, Autonomy, and Mechanisms to make it better (Sprints)
When a team has identified and prioritized where they need to make changes and improvements, give them the independence and means to accomplish their intentions and goals.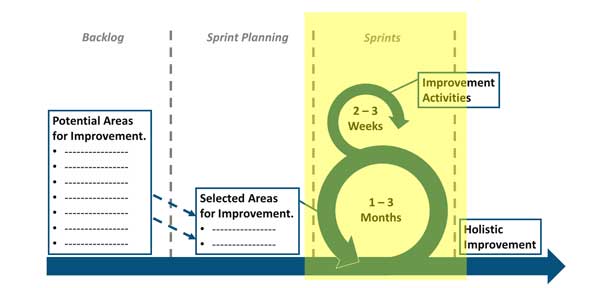 While improving engagement and culture is an ongoing effort, set aside time during regular team and 1x1 meetings, brown bag lunches or other opportunities to work on individual and collaborative Improvement Activities
These activities should be fun and engaging for all participants. A few suggestions to help with this include;
✎ In group settings (e.g. team meetings) set aside time to discuss topics such as;
What team rituals can we establish to bring people together and build a unified culture?
Do we always recognize the validity of each other's views, needs, and different ways of working?
Training that enhances the employees' skills or teaches them new ones
✎ Hold brown-bag lunch sessions where you ask everyone to write down or talk about topics such as;
Elements of their job they find most and least rewarding
Ways they would like extra support from their manager and colleagues
Strengths and qualities about the person to their right
✎ Establish and continually review Team and Individual Goals that help build stronger relationships and trust. For example;
"We will hold a 15-minute huddle each Tuesday & Thursday to identify if anyone needs help with their work" - Team
"I will learn about Peter's projects, so I can assist when he is busy or out of the office" -Employee
"I will have bi-weekly 1-on-1 meetings to provide proactive feedback … and then ask for feedback on myself (making it a reciprocal exercise)" – Team Lead
Rinse and Repeat
Every 2 or 3 months encourage the teams to retake the assessments and track their progress.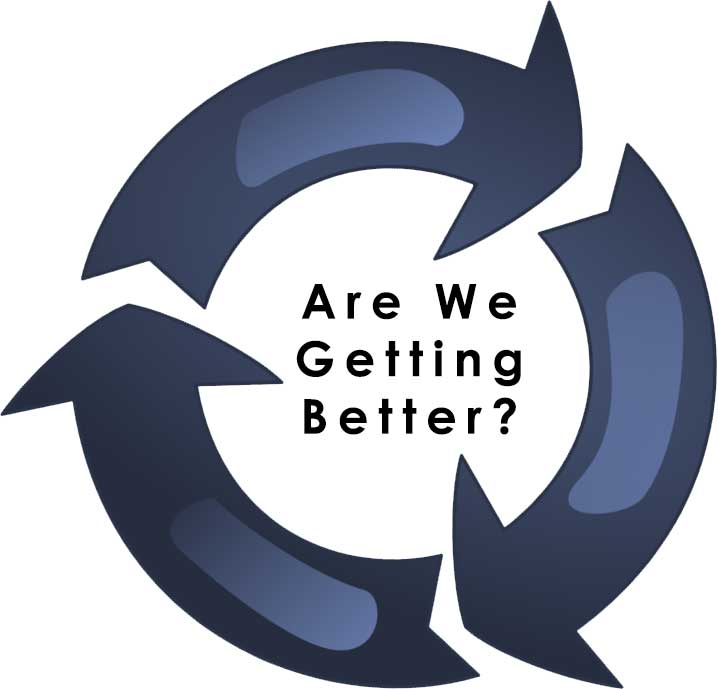 Because of the autonomous and self-governing approach to making targeted improvements, they will look forward to retaking the survey to see if their scores have improved.
If things are better in the areas of focus, now select another 1 or 2 topics to work on next. If not, continue to look for ways to get better. You can bring in a consultant to help, do a little research and reading or simply ask for help from other teams within the company who may excel in that area. Don't be afraid to ask.
The important thing is to continually and collaboratively look for ways to improve.
A Manifesto for Increased Engagement
Today's employees want a job that excites them. They want the authority to drive their own work. They crave the opportunity to be their best by removing obstacles in their way.
In the sequence of events noted above, the ownership for improving culture is transferred from HR and Management to the employees. Because they have been trusted and empowered to be the change they seek within their own domain, they will be enthusiastic participants.
The culture will transform from one of " what's management doing to make things better?" ... to one of ... " what can I/we do to make thing better?"
It's high time we put team-based, agile methods in place that increase engagement, develop leadership and deliver a much better employee experience.