BP2W Activities and Indicators Introduction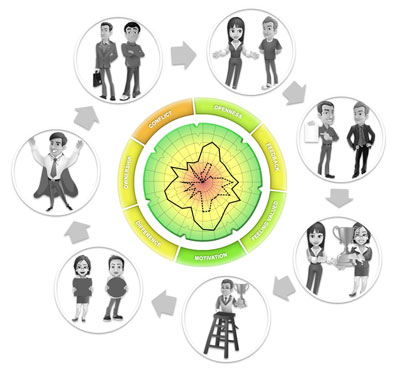 BP2W uses seven key workplace indicators to measure staff satisfaction levels and the impact of leadership within the organization. The built-in activities are based on these indicators and each user has their own confidential web space to access resources, record their action goals and track progress on the indicators.
Employees Who Feel Valued
...people are made to feel special and hence they act special
Employee Openness & Transparency
...receptive to new ideas and engage in two-way communication
Energetic Employee Feedback
...recognize the value of regular feedback to improve performance
Highly Motivated Employees
...positive job feelings and an intrinsic drive to achieve
Employees Managing Differences
...differences don't get in the way but are seen as a source of strength
Employees Taking Ownership
..accountability for getting needs met rather than complaining
A Conflict-Free Work Environment
... minimizing dysfunction, disharmony and time wasted on conflict
In conjunction with the diagnostic survey in the program, these activities provide practical and interactive exercises that promote energetic employee participation and increased working relationships which result in the organization becoming An Even Better Place to Work.